892 Professional Rancimat
The 892 Professional Rancimat determines the oxidation stability of natural fats and oils, in their pure form as well as in fat-containing foods and cosmetics, using the established Rancimat method.
To this end, it accelerates the aging process of the sample by exposing it to heat and increased volumes of air, and it measures the time that passes until oxidation takes place at a high rate – the induction time or oxidation stability index (OSI). Operation, evaluation, and data management in the user-friendly StabNet software for PC make analyses with the Rancimat easy and safe.
Key Features
Compliant with standards including AOCS Cd 12b-92 and ISO 6886
User-friendly StabNet software for instrument control, results evaluation, and data management
Simultaneous analysis of up to eight samples
Each sample position can be started separately and directly on the instrument
Download Brochure : 892 Professional Rancimat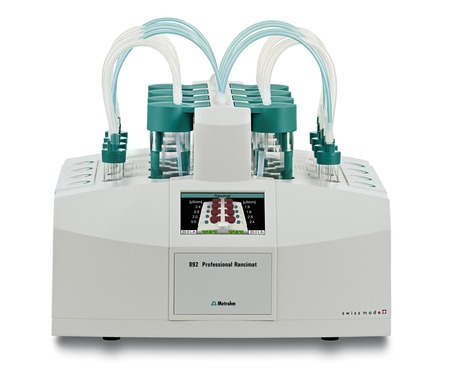 Titrando
Metrohm's high-end titrator for discerning professionals.
Titrando titrators have been developed to meet exacting titration demands. These titrators come with a wide range of security and traceability options, making them particularly suitable for use in regulated industries. Titrandos are capable of performing all common titration types and offer a host of automation and control options.
Key Features
Full traceability (audit trail) and compliance (FDA 21 CFR Part 11, GLP, GMP)
Improved convenience through iTrodes, Dosino technology, and tiamo software
Additional dosing devices, stirrers, and measuring inputs for customized setups
Extensive automation options for increased sample throughput and sample preparation
Download Brochure : 901 Titrando