Flowers and High Terpene Plant Materials
Rapid dehydration: from fresh to dry flower in 45 minutes.
EnWave's low-temperature process quickly and uniformly dries organic material to the precise moisture needed for combustible or extractable flower.
Products Include: Flowers, Spices, High Terpene Armoatic Plants, Cannabis, Potpourri, and Industrial Hemp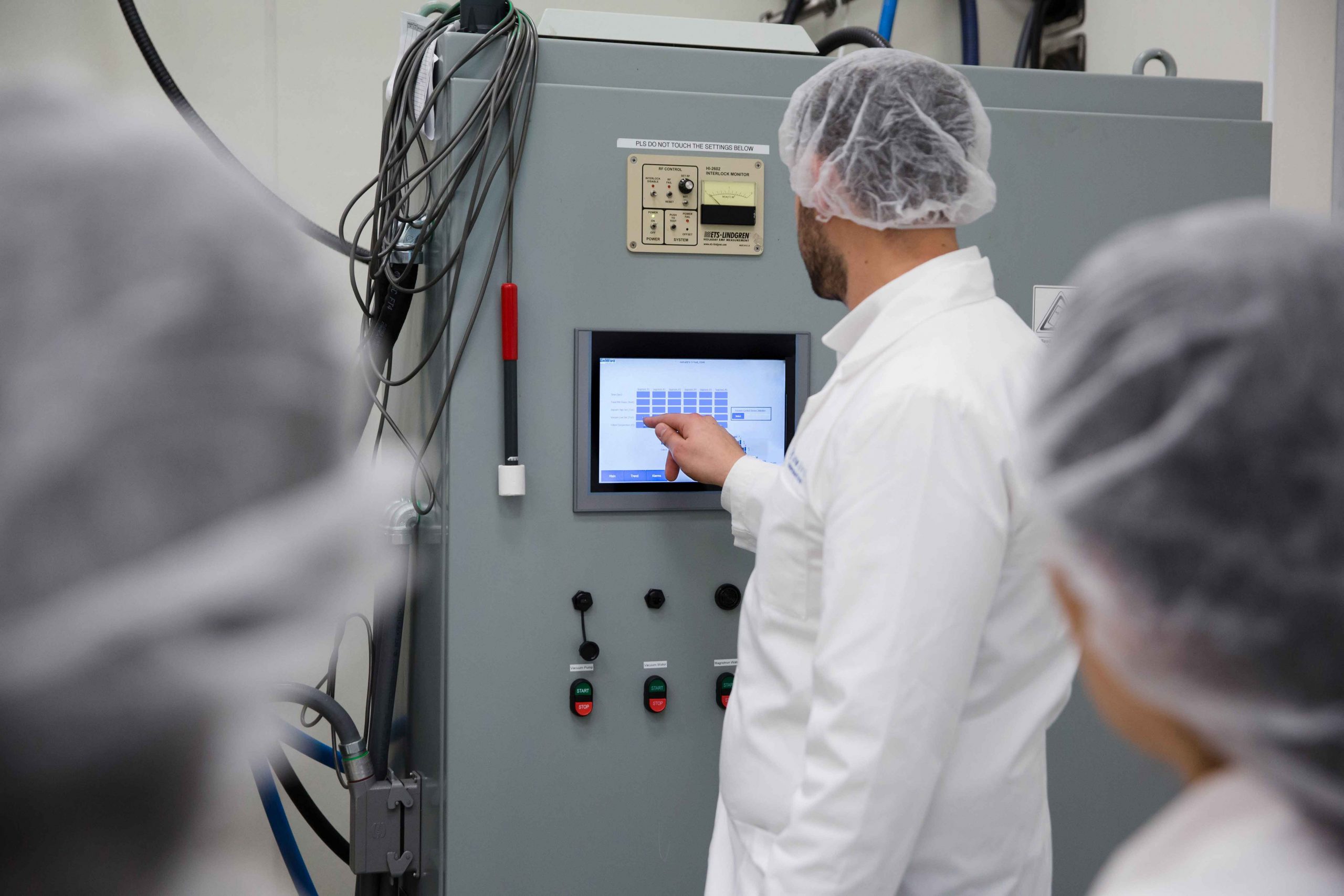 QUALITY DRIED FLOWERS

Low temperature drying retains cannabinoids and terpenes
Low-pressure drying prevents oxidation
Gentle process preserves resin-coated calyxes
Delivers excellent aroma and appearance
FAST DRYING TIMES

45 minutes from fresh to dry (80% to 10% - or to 2%)
Vacuum pressures lower boiling point for fast water removal
Semi-continuous automated process
ROBUST & FLEXIBLE SYSTEM

Automated tray unloading/washing/drying available
24/7 operational reliability
Proven technology with worldwide machine installations
DESIGNED FOR MANUFACTURING CONVENIENCE

Full PLC control for process automation
Remote monitoring of HMI via internet connection
Menu driven protocol selection enables easy selection of protocols you develop for specific strains
Equipment and protocol monitoring and recording
Gravity drainage and SOP for sanitizing
VALUE

Dry large volumes with a small machine footprint, reducing the need for oversize drying rooms
Prevent inventory loss from microbial spoilage
Closed cycle drying captures volatilized terpenes for sale or use
REGULATORY COMPLIANCE

Equipment can be GMP or organic certified
Ready for clean-in-place (CIP) automation or COP
Compliance certifications: Process recording
CAPACITY

Drying capacities range from 52 – 105 kg of wet untrimmed flower per hour (115 – 231 lbs per hour) in the medium and large scale machines
Process about 420,000 kg (about 925,000 lbs) of wet untrimmed flower per year resulting in about 95,000 kg (about 209,000 lbs) of dry flower per year (in two 8-hour shifts per day operation, 5 days per week).
A single 120 kW quantaREV® system can dry about 840 kg (about 1850 lbs) of wet flower in a single 8-hour day, producing about 190 kg (about 420 lbs) of dry flower per shift.
Operating just two shifts per day, 5 days per week, a single machine can dry about 420,000 kg (about 925,000 lbs) of wet flower yielding about 95,000 kg (about 209,000 lbs) of dry flower per year.

High Speed Processing
Rapid drying with significant time savings over Air Drying and Freeze Drying
New Product Opportunities
Unlock product options otherwise unachievable with other technologies
Scalability
Machine options that scale from research and design, batch production to continuous commercial production
Reduced Energy Usage
Rapid drying times equate to reduced energy usage for the equivalent throughput
Continuous Processing
Integrate REV technology into your continuous production line for full scale processing
Flexible Moisture Content
This uniform drying method allows for a range of final moisture percentage and the ability to create shelf-stable products at various moisture percentages