Winterisation & Filtration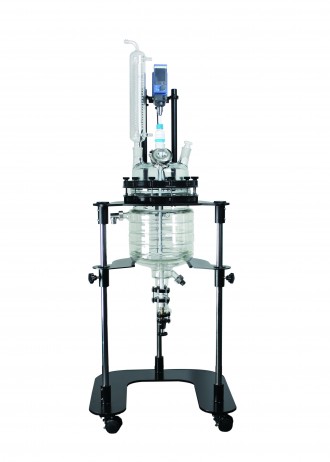 Glass Reactors for Extraction, Winterisation & Filtration
All glass double-wall or triple-wall reactors are available with optional patented ring baffle to improve temperature homogeneity. Volumes are available from 300 ml to 20L.
Each bench-top or pilot system is capable of holding a wide range of reactor vessels without the need to fully disassemble the reactors or replace top lids. Vessel changes can be done in less than 5 minutes.
Patented Ring Baffles
Patented ring baffles direct the heat transfer fluid flow to prevent "cold spots" and ensure turbulent heat transfer fluid flow for best possible heat transfer and reactor performance. It is common for our reactors to achieve reactor ramp times 40% faster than non-baffled reactors from other brands
Optional Integrated Filtration
Our filter reactors feature customized filter inserts to enable direct filtration of product from the reactor vessel without he need to transfer into external filtration vessels.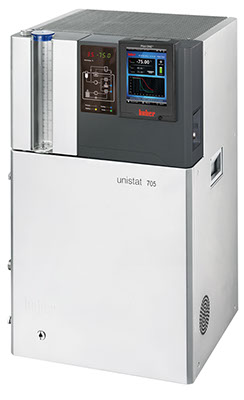 Dynamic Temperature Control - UniStat
In comparison to other circulators, the Unistat offers rapid temperature change performance and a wide operating temperature range without fluid change which is achieved through hermetical seal of the heat transfer fluid circuit.
There are over 60 models to choose from with cooling powers from 0.7 - 130kW
Hightlights
Temperatures from -120C to +425C
Pilot ONE controller with 5.7" touchscreen and chart functions
T A C, self-optimizing true adaptive control
Adjustable circulation pump
Onboard system diagnostics for remote support
Dynamic Temperature Control - Ministat
Exceptionally compact and powerful, Ministats have been the smallest cooling circulators in the world since 1976. Their compact form allows them to be placed in small spaces, e.g. in laboratory fume hoods.
Hightlights
Ultra compact
Air-cooled and water-cooled models
External PT100 sensor available
Variable pump speed to adjust your process
Temperatures from -45C to +200C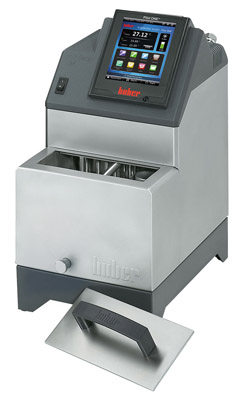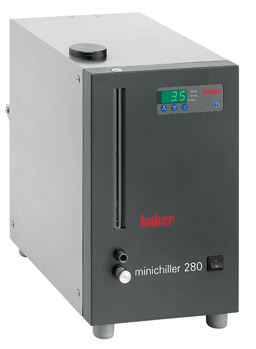 Dynamic Temperature Control - Chillers
Huber Unichillers offer better efficiency, stable pressure and performance delivery with a constant cooling water temperature compared to traditional tap water cooling
Chillers also reduce water consumption ad help conserve the environment whilst lowering operating costs.
Unichillers are suitable for the removal of heat from chemical processes, cooling technical plants, vacuum instrumentation or as a central cooling water supply for laboratories
Hightlights
Cooling capacity of 280W to 50,000W
Heating elements optional
Air-cooled and water-cooled models
Immersion coolers & flow-through chillers
Chemistry Pumping Unit - PC 3001 VARIO®
This VARIO® chemistry pumping unit optimizes vacuum conditions automatically by precisely and continuously adjusting the diaphragm pump´s motor speed. Thanks to the motor speed control the pump operates only when vacuum is needed, saving energy and reducing maintenance. The integrated vacuum controller enables fully automatic evaporation at a push of a button. Low space requirements, light weight and low operational noise contribute further to this unit's flexibility and popularity for laboratory use.
The PC 3001 VARIOpro is ideal for vacuum applications with high boiling point solvents. The inlet separator, made of glass with a protective coating, prevents droplets and particles from entering the pump. The highly efficient insulated exhaust vapor condenser has a very compact design and provides near-100-percent recovery of solvents.
Hightlights
Easily operated CVC 3000 vacuum controller with clear text menus and integrated venting valve
Automatic optimization of the vacuum level throughout the process for high process reproducibility and unattended operation, short process times due to zero-fluctuation (hysteresis-free) vacuum control - even for large amounts of vapor
Compact and powerful; excellent ultimate vacuum, even with continuous condensate purge
Whisper quiet and ultra low vibration
Excellent environmental friendliness due to low power consumption and efficient solvent recovery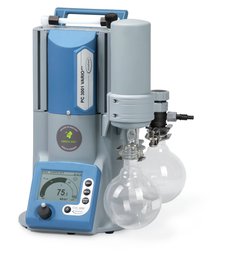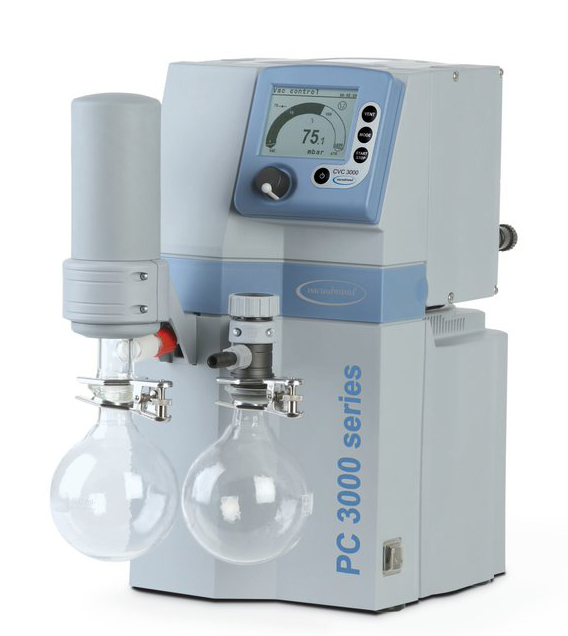 Chemistry Pumping Unit - PC 3004 VARIO®
VARIO® pumps and pumping units provide precise vacuum control by adaptation of the diaphragm pump´s motor speed. They feature fully automatic evaporation control on the push of a button. The basic pump is the three-stage MD 4C NT VARIO chemistry diaphragm pump which meets high vacuum requirements for most high boiling solvents.
The PC 3004 VARIO offers a well proven choice for evaporation of large amounts of solvents. The separator at the inlet, made of glass with protective coating, retains particles and liquid droplets. The waste vapor condenser at the outlet enables near-100-percent solvent recovery, efficient recycling, and active environmental protection. The on-demand motor speed control results in unsurpassed lifetimes of service parts, such as diaphragms.
Hightlights
Automatic adaptation of the vacuum level throughout the process for high process reliability and unattended operation
Short process times due to high pumping speed and zero-fluctuation (hysteresis-free) vacuum control
Easily operated CVC 3000 vacuum controller with clear text menus, with integrated venting valve
Extraordinary diaphragm life, therefore minimum operational and servicing costs
PC 3004 VARIO: excellent environmental friendliness due to efficient solvent recovery