C-40 Centrifuge Extractor
Overview
The C-40 is a centrifugal extractor designed for the optimal extraction of cannabinoids at mid to large scale volumes. With a 133L material basket, an operator can run up to 40 lb per run every 10-20 minutes*. The system is as fast as it is versatile, allowing different user specifications for temperature (down to -40°C), rotation speed, and retention time creating the optimal combination of control and ease of use.
Optimal Cannaboid Extraction Technology
97%+ removal of ethanol (solvent)
98%+ removal of cannabinoids
Optimized basket configuration for long term durability and balance
Proprietary Opti-Balance intelligent load sensing system for superior safety and product durability
133L material basket
Average cycle time of 10 - 20 minutes*
Process up to 40 lb per cycle*
Closed-loop system
Engineered for ease of operation by a single operator
Superior Safety & Product Durability
Designed for simplified material loading and unloading, the C-40 is very user-friendly. Engineered for ease of operation by a single operator.
Designed, Engineered & Manufactured in the USA
The C-40 features multi-function jacketed housing supporting either liquid coolant or vacuum insulation with a low temperature rating to -40°C. All wetted parts are 304L, 316, and 2205 sanitary stainless steel.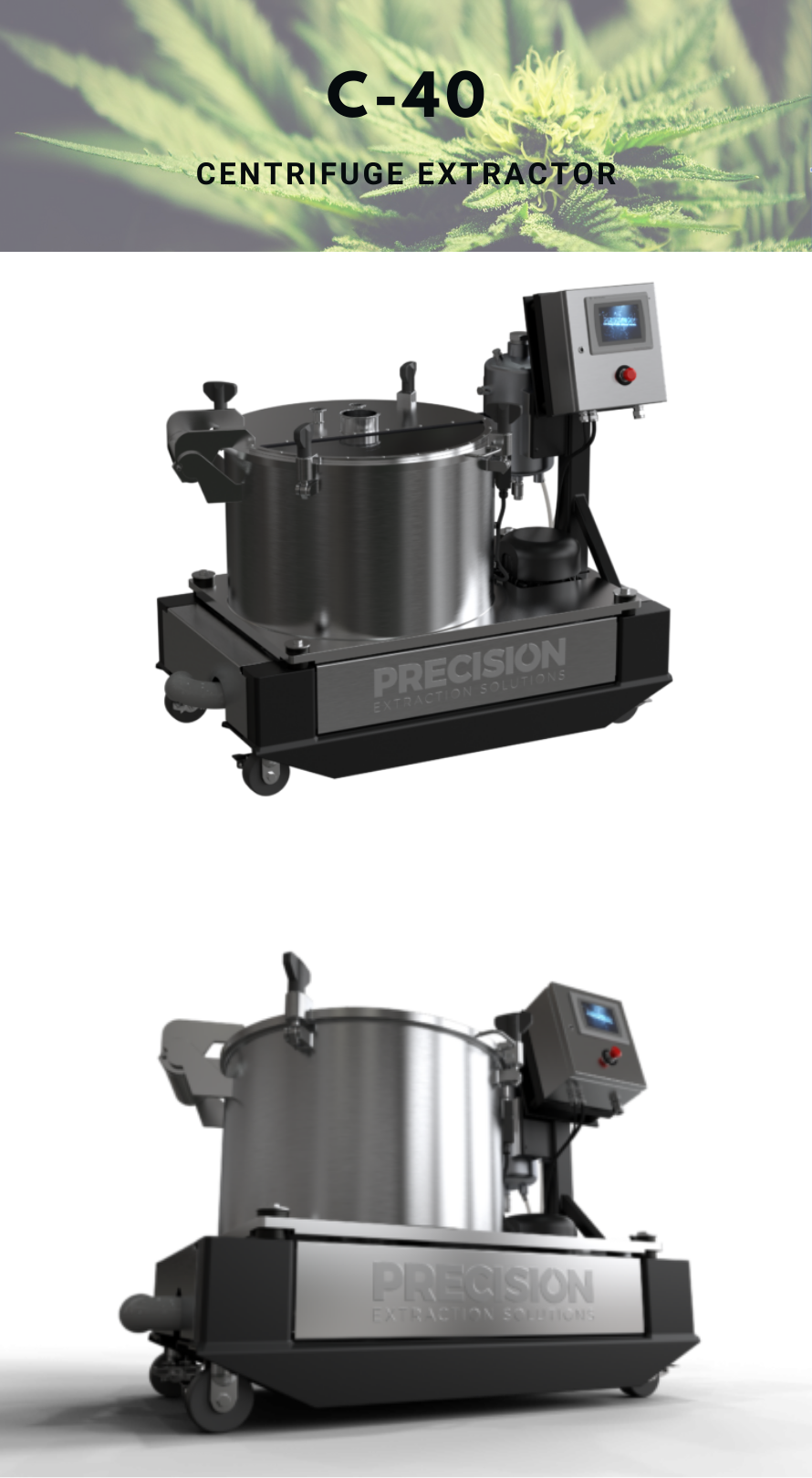 X10 MSE - Extraction System
Overview
The X10 MSE (multi-solvent extractor) is the company's flagship extraction system. Utilizing ethanol solvents, the X10 processes more than 10 lbs of material per run with an average 55 minute recovery time* making it ideal for mid-level commercial production and craft applications. With patent pending jacketed vessels, the X10 comes equipped with on-demand heating and chilling, providing the system with maximum control and ease of operation.
Ethanol Specifications
Non-Volatile, EPR reviewed, Closed Loop, Type 6 process for licensed operations (when used with ethanol solvent)
Pressurized Aqueous Cold Ethanol Extraction (PACEE) for superior full spectrum cannabinoid and terpene removal
30L of ethanol used per run
Approximate 15L/h recovery rate with 50L UL listed rotovap
Approximate 2.25H processing time per run (single batch with full recovery)
3H processing time (triple batch with full recovery)
Certified for Class 1, Division 2 environments
95%+ cannabinoid and terpene removal
N2 pressurized saturation compatible up to 200PSI for excellent solubility (ASME certified vessels)
Up to 3 runs per solvent batch
Full spectrum yields great for high CBD hemp products
Temperature Control Options
Huber CC-505
Huber CC-508
Huber CC-515
Huber Unistate 815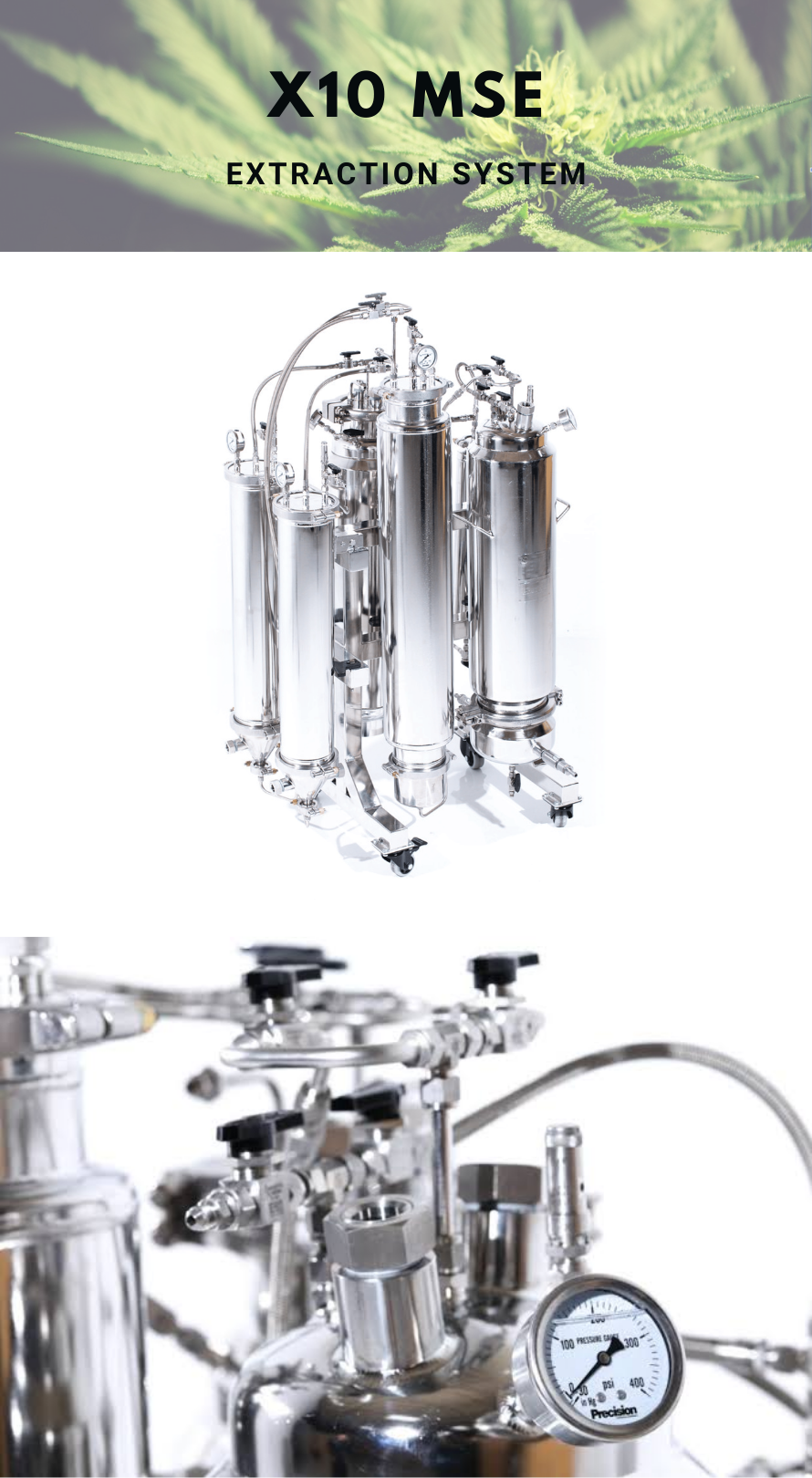 Devex CryoEXS - Crude Oil Extraction
DEVEX CryoEXS 400
All-in-one Cryo-Extraction, Solvent Recovery and Decarboxylation system. Features: Low residual solvent left in spent biomass by means of steam stripping; Extraction temperature: sub-zero, no need to de-wax.
DEVEX Design (Connect-plug-product) : The DEVEX Cryo Ethanol Extraction System is mounted on two stainless steel skids. The DEVEX Cryo Ethanol Extraction System is supplied completely piped, cabled and can be used directly after interconnection of the two skids and connection to the utilities.
DEVEX CryoEXS 400
The DEVEX Cryo Ethanol Extraction System provides the following processes;
Solvent Cooling
Ethanol Extraction
Ethanol Recovery
Ethanol Stripping out of cannabis biomass after Ethanol Extraction
Decarboxylation
Explosion Protection
Due to the use of ethanol for solvent the equipment is designed to match with hazardous environment conditions Ethanol IIB T3, inside zone 1 / outside zone 2 (ATEX II 2G / ATEX II 3G). For the North American market the system is designed to match the conditions NEMA Class I Division 2 (CID2).
Material
Parts in contact with product or solvent: AISI 316, 316 L, 316 Ti
Technical Data - CryoEXS400
Ethanol Recovery

Evaporation Capacity: 350 l/h, Ethanol
Solvent: Ethanol
Evaporation Pressure: 100 - 1000 mbar (abs.)
Design Pressure: - 0.9 / 0.5 barg
Extraction
Extractor: 1 x 100L
Feed: Approx. 180kg Cannabis Biomass / 8h (400 lbs)
Solvent: Ethanol
Extraction Temperature: Sub-Zero
Pressure Level: - 0.9 / 0.5
Parts in contact with product or solvent: AISI 316, 316 L, 316 Ti