USB Oven Sample Processor
Automatic thermal sample preparation for Karl Fischer titration
The oven method is suitable for samples that release their water only at high temperatures, are difficult to dissolve or react with the KF reagent.
Sample preparation is very simple. The substance to be analyzed is weighed out into a sample vial, which is hermetically sealed with a septum and placed on the rack. The sample vial is heated in an oven to release the water from the sample. A double hollow needle pierces the septum and a stream of carrier gas transports the moisture to the titration cell for subsequent determination.
The advantage of the oven method is that the sample itself does not get in contact with the KF reagent. This prevents contamination of the oven and the titration cell, which means that there is no risk of carryover or memory effects. Possible contamination is confined to the sample container alone.
Advantages of the 874 USB Oven Sample Processor
The 874 USB Oven Sample Processor is simply connected to the USB port of a computer and is automatically recognized.
Use your own sample vessels. The oven and the rack can be adjusted to different sample vials.
An 800 Dosino can be connected directly to the MSB port of the 874 USB Oven Sample Processor and used with a Dosing Unit for automatic replacement of the reagent.
The optimum oven temperature for every sample can be determined with the temperature gradient.
A heated transfer tube ensures that the moisture is completely transferred to the titration cell.
Download Brochure : USB Oven Sample Processor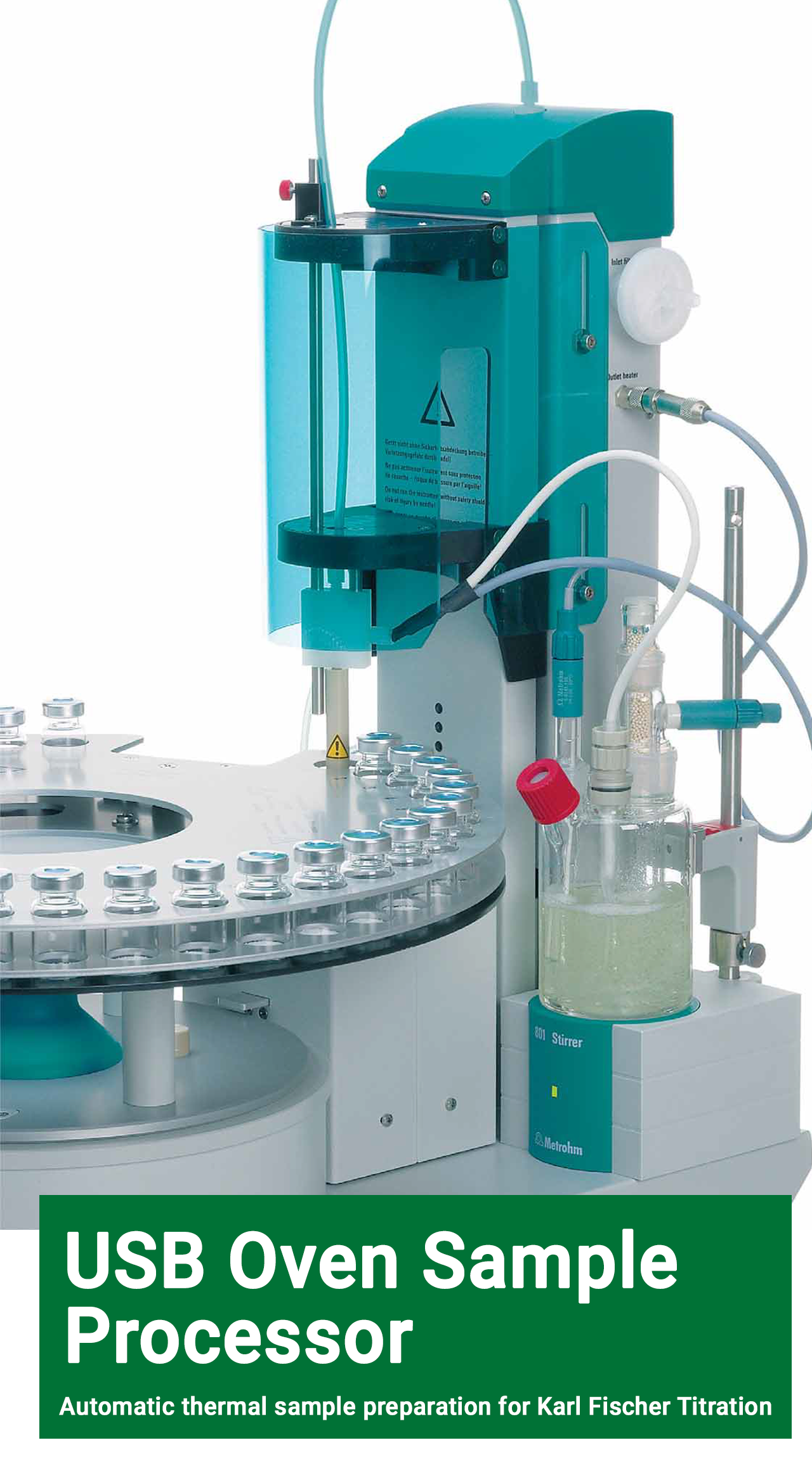 Titrondo
Intelligent Karl Fischer Titrator
Karl Fischer water determination is one of the most frequently applied laboratory methods. In contrast to other water determination methods it is specific, fast, and requires no expensive equipment. With an application range of 0.1% to 100% water volumetric Karl Fischer titration is used in a wide variety of fields. No matter whether you determine the water content in food, cosmetics or pharmaceutical products, the Titrando is always the right instrument.
Highlights Of Titrando
The Magic Touch – Favorites for quick titration start
PC Control for operation via PC
iConnect – mobile measuring input with digital data transfer
iTrodes – intelligent sensors for automatic electrode recognition
Intelligent dosing elements
Karl Fischer and SET titration
Sample Processor control
Client-server database with tiamoTM
Parallel titration with tiamoTM
Lab Link for Intranet and Internet
Liquid handling with the patented Dosino
Complies with GMP/GLP and FDA Regulations such as 21 CFR Part 11
USB interfaces for sample changer, printer, PC keyboard, barcode reader...
Wireless communication via Bluetooth for printer and balance
Download Brochure : Titrando Brochure