More and more frequently it is required to separate THC from CBD and terpenes.
With our KDL5 / CDU1000 fractional distillation system you're working with the pinnacle of of cannabis distillation equipment. The automated capabilities, continuous operation and unique features of the KDL5 / CDU 1000 exponentially increases the efficiency of the distillation process.
Crude oil is fed into the distillation column via an automatic dosing pump. The dosing pump is fully programmable based on the operator's desired throughput. The crude oil is pumped into a column, where it is evenly distributed over the evaporative surface by several PTFE "rollers". This thin film technique allows higher efficiency and lower temperatures to be utilized during the distillation process.
The KDL5 / CDU 1000 maximizes the efficiency of your lab with no batch-size limitations and no flask swaps. Continuous operation with minimized downtime.
Performance Features
No batch size limitations
No swapping flasks
Continuous operation
Installation and training included
KDL 5 - Short Path Distillation
The single-stage Short Path distillation unit KDL 5 for laboratory purposes is designed for manually operating in Non-Ex-Areas only. Designed to distillate substances with a viscosity up to approx. 2000 mPas at distillation temperature. The typical feed rate ranging from 0.5 to 1.5 kg/h (depending on product and application).
The KDL 5 is compatible with the following equipment;
Distillation Unit
D.2 Distillation Unit, Totally Heatable
DCX.1 Direct Cooled Cold Trap -80°C
Feed System
EX.3 Gear Pump, Heatable Up To 200°C, Product Feed Vessel 2.0L
Discharge System
AX.9 Gear Pump For Discharge, Heatable Up To 200°C
Heating/Cooling Units
VHX.1 Heating Device for evaporation, 50 - 250°C
EHX.1 Heating device for product feed, 30 - 150°C
AHX.1 Heating device for residue discharge, 30 - 200°C
IX.2 Heating/Cooling device for internal condenser/distillate -20°C - + 50°C (+200°C)
Vacuum Pump Set
VX.2 Rotary Vane Pump and Oil Diffusion Pump Set
General Equipment
G.3 Mobile Rack, for Max. 4 Heating Devices
P.1 Touch & Splash Protection Made of Polycarbonate Designed for G.3
L.1 Power Distribution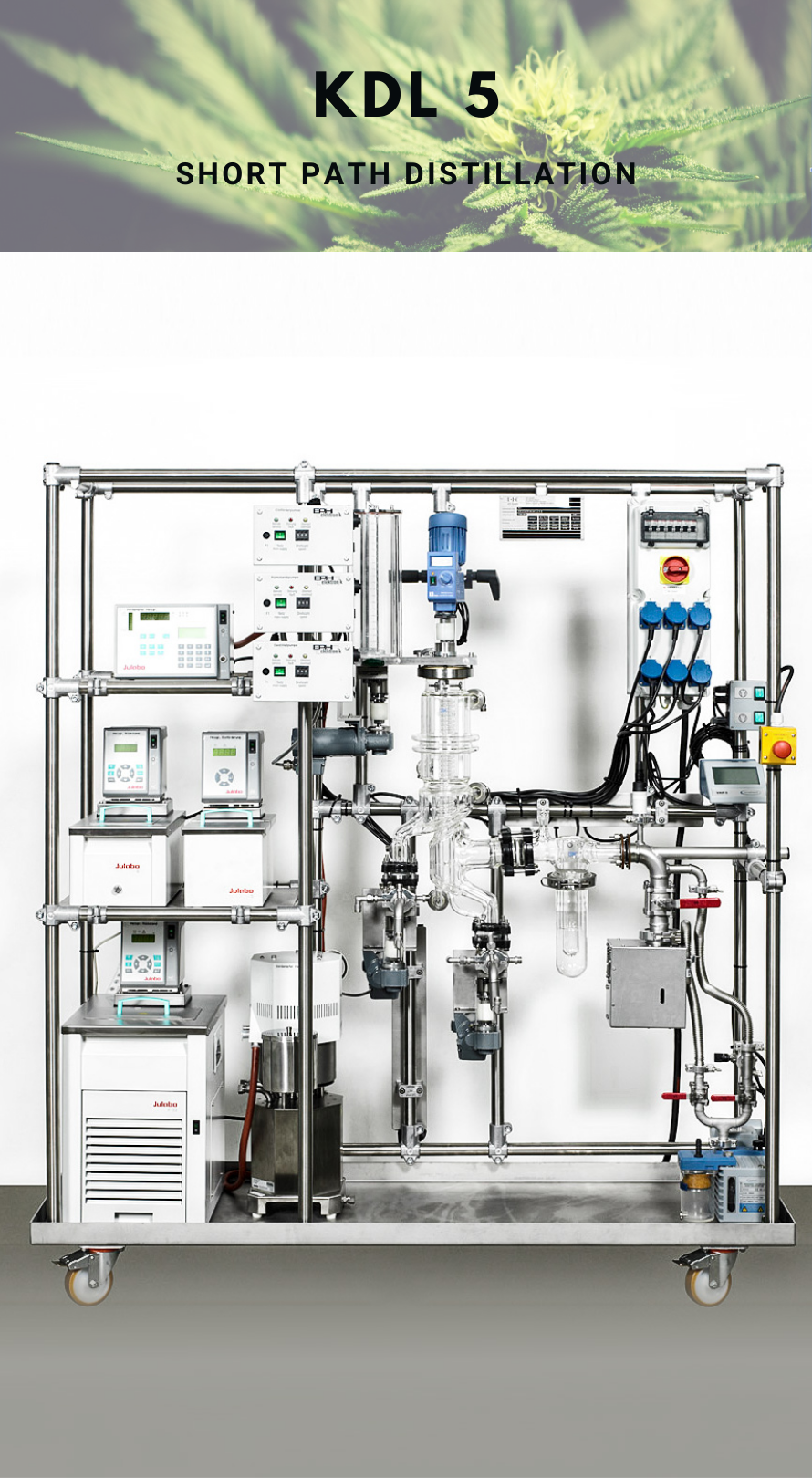 KD 6 - Short Path Distillation, Pilot Plant
Process development/optimization, sample production, and product development are the areas of application for the UIC pilot plants. Since the plants are made of stainless steel, they are extremely well suited for scale-up to industrial plants in all sizes.
Their plants can also be used for optimizing production plants. This way, critical operating parameters can be identified and optimized. Thus, increasing efficiency parallel to the production process is easily feasible.
The combination possibilities of the Short Path Distillation and Thin Film Evaporation with various additional options such as rectification, degassing, flash evaporation and washing condenser is more flexible than with laboratory plants. The pilot plant series by UIC includes both mini plants with approx. 3-9 kg/h throughput up to small production plants with 30 kg/h.
A maximum evaporator temperature of up to 350 °C and a fine vacuum of down to 0.001 mbar allows a wide range of applications. There are specially developed solutions for high viscous or crystallizing products. The pilot plants are designed for easy commissioning with just a few simple steps. A further feature is that our plants are easy to clean and disassemble.
If required the plants can be designed according to ATEX and GMP guidelines. With PLC control system and process visualization UIC plants can be used as multi-purpose systems.
KDL 6
The KD 6 is a small product / pilot plant system for multipurpose short path distillation applications. At the heart of the KD 6 system is a Short Path Distillator made of stainless steel with an evaporator surface of 6dm². The plan is designed for manual operation in non-Ex areas.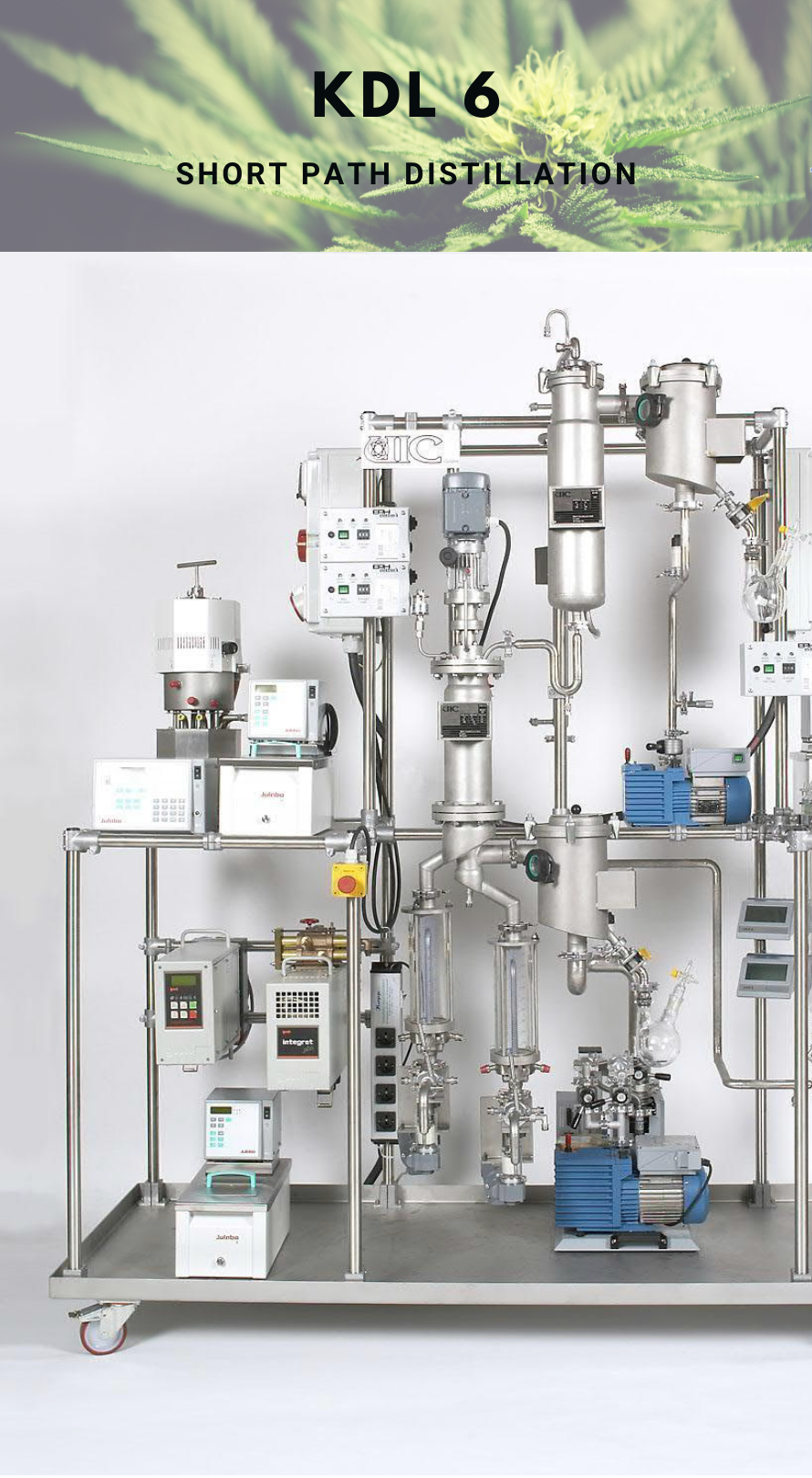 KDL 10 - Short Path Distillation, Pilot Plant
The KDL 10 system is a Short Path Distillator made of stainless steel with an evaporation surface of 0,1 m2. The plant offers a high quality plant designed and equipped with the best components available on the market. Basis for the selection is the long experience of UIC in operating their own plants of similar scale in their test centre. Especially the selected product pumps for these plants are of a special design, to fulfil production demands in the most reliable manner.
Plant Characteristics
The purpose of the plant is to process cannabinoids and similar products. The plant can be operated in a continuous manner by applying 2 or more process passes in order to achieve the desired purity of the product.
The plant KD10 with degasser is designed for the following process requirements: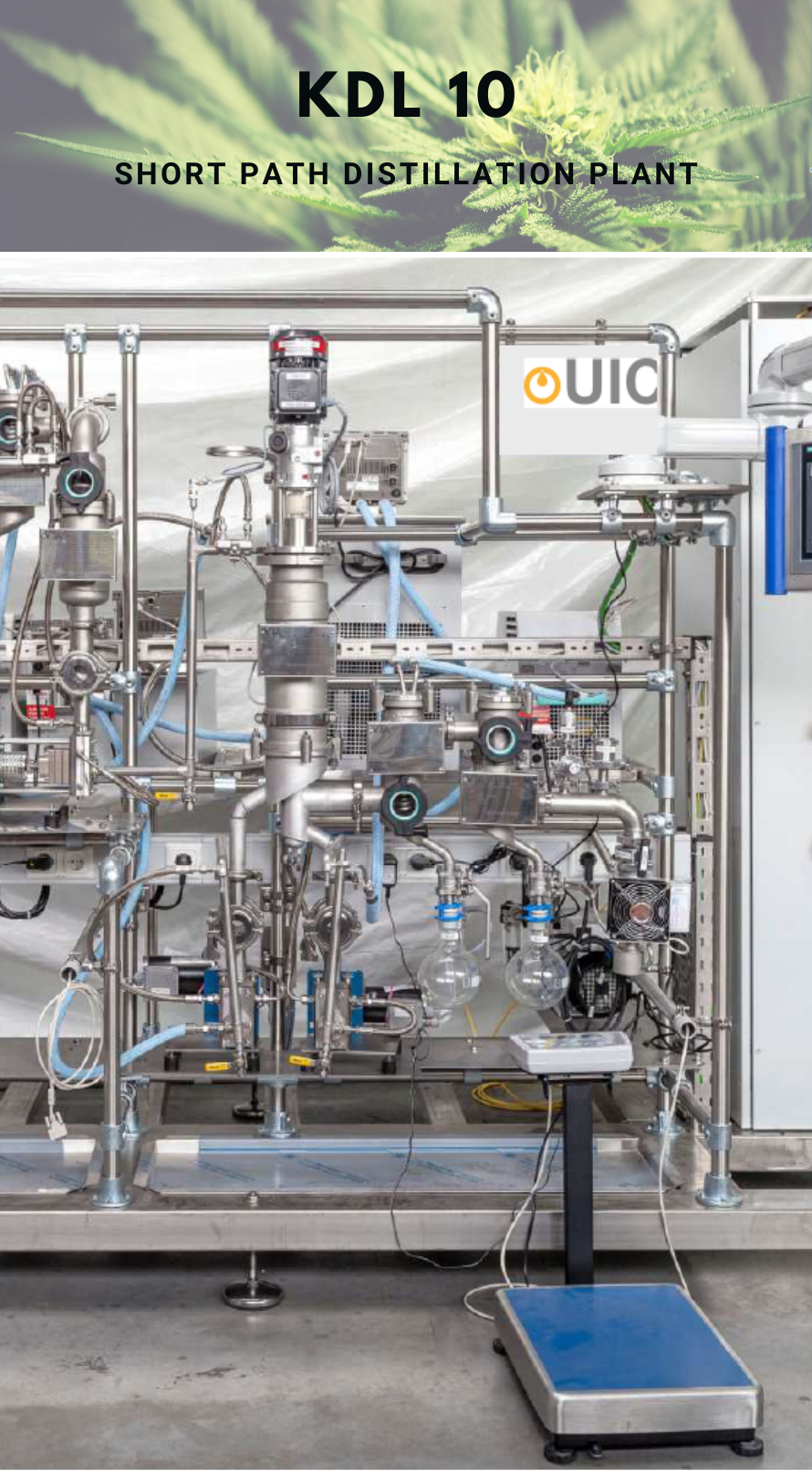 VKL 70-5 - Short Path Distillation
Root Sciences specializes in commercial-scale short path distillation equipment for the cannabis industry. Our system can refine cannabis and hemp concentrates into a golden clear distillate that can be infused into a variety of edible products or fine oils to be used in vape cartridges and tinctures. In our cannabis oil distillation process, we take advantage of the boiling points of cannabinoids. By using molecular separation, we can separate the THC from the terpenes, impurities, and solvents, leaving you with an odorless and clear golden distillate. The main advantages to using distillate is that it is safer to consume, has a much higher potency than extracts or flower and activated through the distillation process.
A Turnkey Solution
Root Sciences Short Path Distillation apparatus is a short path evaporator with an internal condenser and atmospheric discharge arms for residue and distillate. With short path distillation, a decrease of boiling temperature is obtained by reducing the operating pressure. It is a continuous process with very short residence time.
Advantages to using this system

Continuous feed Short residence time (less than 10 seconds)High evaporation rates
Low processing temperatures Low vacuum (down to 0.001 mbar)
Low fouling on evaporator wall Compact design
Automated System Easy to use
Separates cannabis extracts into high concentrations of clear distillate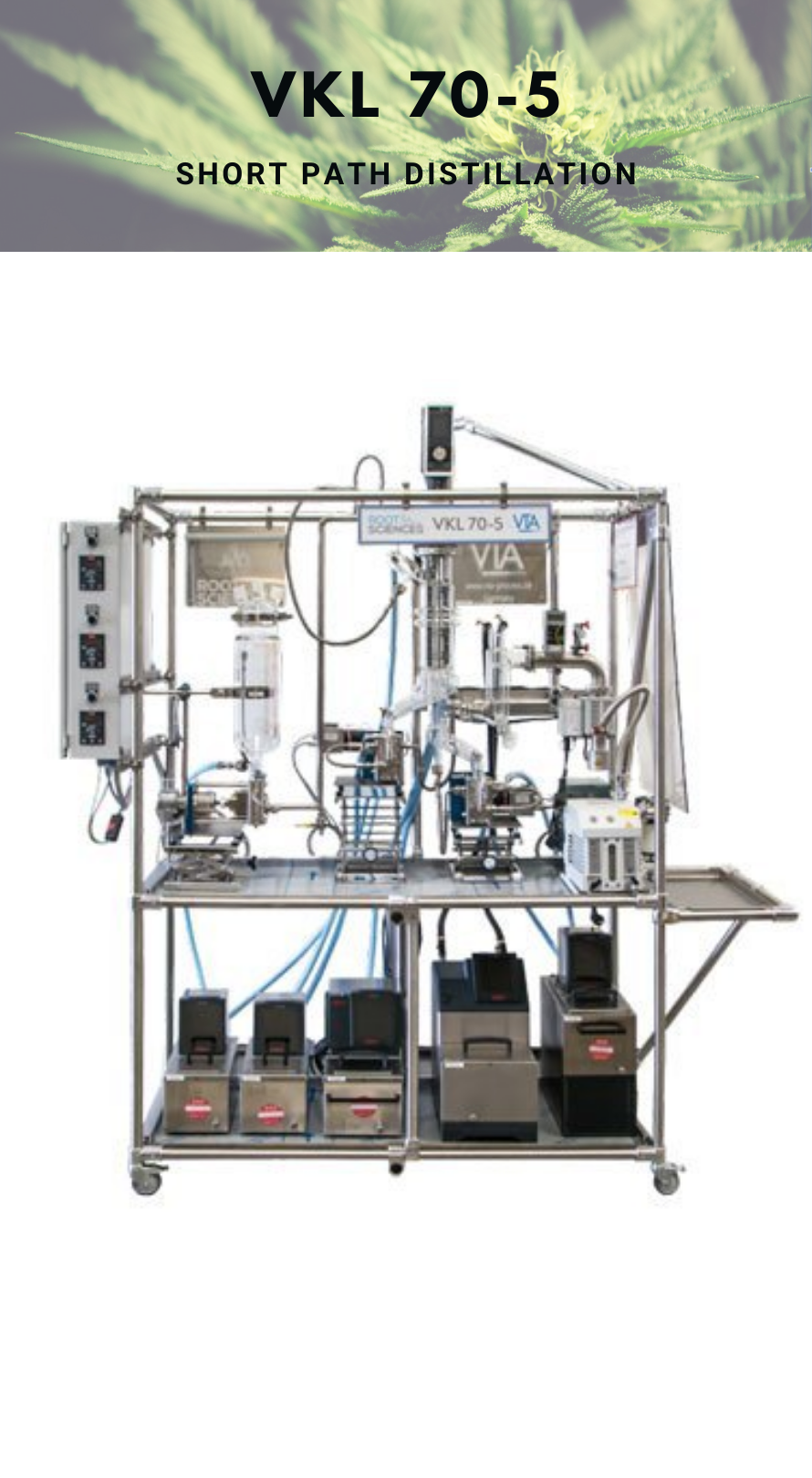 VKL 70-5 RS
The opening model in our VTA line, the VKL 70-5 RS is the perfect industrial starter distillation center. If you don't know what machine you need, the first metric you should consider is the amount of material you want to process per shift. The VKL takes the crude oil produced from 180 kg per shift and yields four to five liters of distillate.
VKS 70-5
The VKS 70-5 is the next step up from the VKL 70-5. While it operates on the same electrical single phase set up, the VKS has the ability to run three times more material than the VKL per shift. It takes 544 kg of biomass and yields 12 to 13 liters of distillate. Both of these models are well suited to small and medium operations that are space conscious and don't need the additional processing power that the following two models offer.
VK 100-10
Stepping up into serious distillation needs, the VK 100-10 can process 2,041 kg per shift and yields 25 to 30 litres. This machine is best suited for processors who need large production. The VK 100 is a bit larger than its smaller counterparts. Be sure to note the space requirement and differing electrical supply that this machine requires when planning a distillation space.
VK 200-40
At the top of Root Sciences' standardized line, the VK 200-40 boasts the ability to process 11,339 kg. of cannabis per shift; this produces 320 to 400 liters of distillate. This model is for processors who require extra-large production. Be sure to note the space requirement and differing electrical supply that this machine requires when planning a distillation space.