Freeze-drying systems for your high-quality product manufacturing
Production Freeze-Dryers
Scitek and its partners support you all the way from the first laboratory trials through the demanding task of process development to the high-quality production of your valuable products.
With many years of experience and expertise in the design and manufacture of production systems, Christ is able to provide application-specific solutions fully tailored to the needs of our customers.
Typically manufacture production systems with ice condenser capacities from 20 kg to 500 kg or more. Either single-chamber or double-chamber systems can be used, depending on the characteristics of the product.
They cover the full spectrum of typical applications with three basic system types.
Drying bulk materials (single-chamber systems)
Download Brochure
Supplier Website
Christ Epsilon single-chamber systems are always a good choice when the primary consideration is high drying performance with low capital expenditure and low energy costs. They also ensure reliable and economical operation year after year. With large shelf area and adjustable shelf spacing, they are general-purpose systems with high ice condenser capacity.
Advantages of Christ single-chamber systems:
Easy, simple and user-friendly operation
Ice condenser adjacent to shelves for high efficiency and short drying times
Product and condenser icing can be observed during the drying and defrosting processes
Fast defrosting of the ice condensor (20 to 30 minutes)
Easy cleaning of the drying chamber and the ice condenser
Low operating and maintenance costs
Compact construction, easy transport and simple system installation
Optionally available with electro-hydraulic stoppering device and adjustable shelf spacing.
There is a choice of five standard sizes with shelf area from 1.76 to 18 m² and ice condenser capacity from 20 to 180 kg. Taylormade capacities are available on request.
Applications:
Food industry (e.g. fruit, vegetables or flavourings)
Chemical industry (e.g. ceramic powders or nanoparticles)
Pharmaceutical industry (e.g. diagnostic products or intermediate pharmaceutical products)
Conservation of materials (e.g. archaeological objects)
Book drying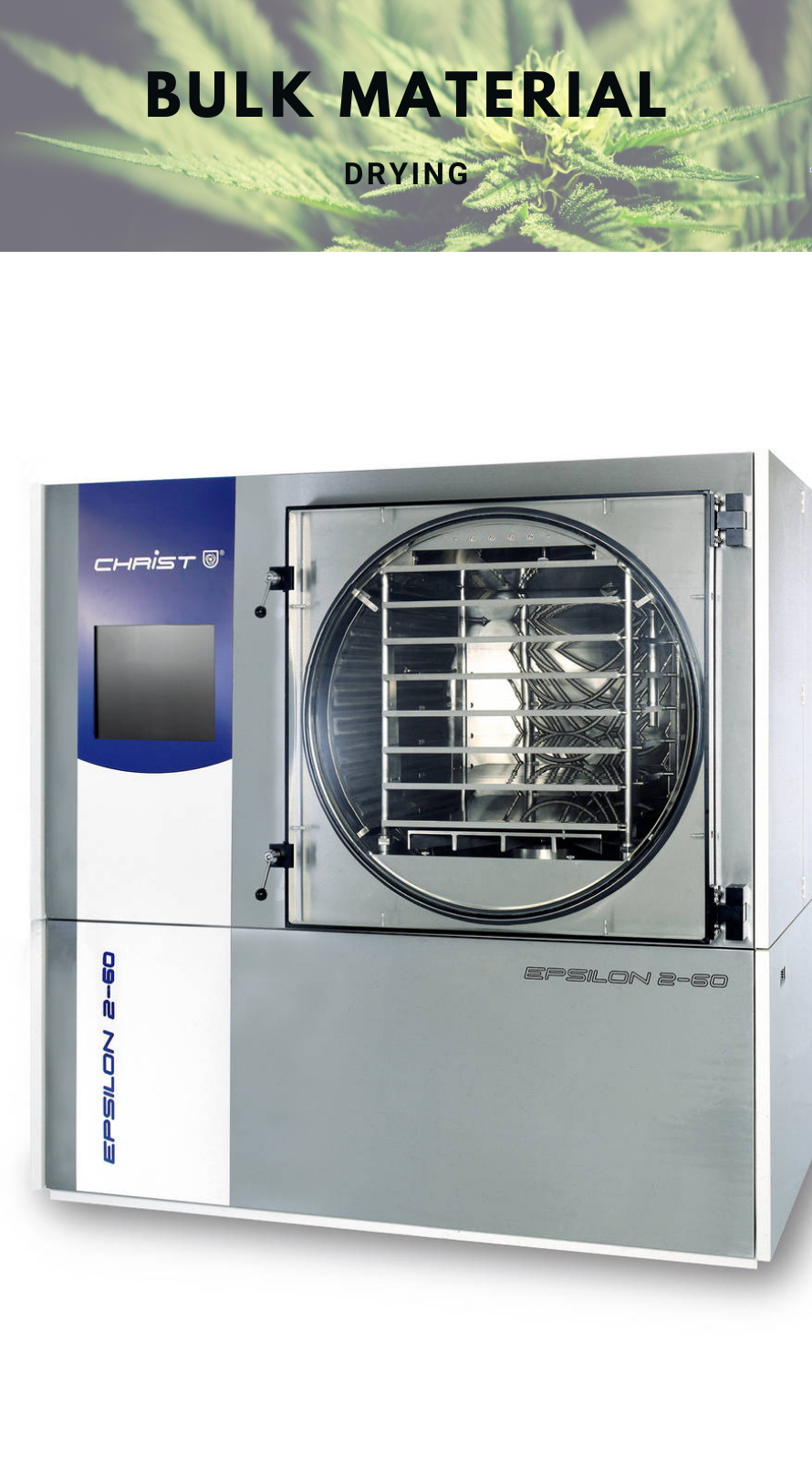 Production systems for aseptic production of active ingredients (double-chamber systems)
Custom system projects
Long before your system dries the first batch of your valuable product, our qualified project management, engineering and service team provides the necessary advice and support for everything from system design, seamless quality control during production, on-time installation, commissioning and qualification, and ensuring the reproducible and trouble-free long-term operation of your freeze drying system. If technical problems arise, you can count on fast response from our Service team 24/7, 365 days a year.
Structural or component positioning modifications for adaptation to space constraints are possible, as well as alternative arrangements for vacuum, cooling and control. We offer a broad selection of solutions at various levels for secure freeze dryer loading and unloading solutions, which is naturally a significant issue for users. They range from configurations with attached isolators to semi-automatic loading carts and fully automatic loading and unloading systems. The latter systems can be implemented conventionally using conveyor belts or transfer carts, or innovatively using cleanroom robots for unparalleled precision and reliability. Mature solutions are assured by our 'best partner' approach, which means working with leading specialists in their fields. Christ normally assumes the role of lead supplier to minimise the number of contact persons.
All systems and equipment fulfil the most stringent requirements with regard to the materials used and functional safety, and they are extensible and upgradable for future applications. Advanced automation concepts simplify operation for users and ensure fully reproducible drying processes. Our experts are active in major associations and working groups, including ISPE and the German PAT group, and are therefore familiar with stringent regulatory requirements, particularly with regard to the pharmaceutical and biotech industries.
We work with users to devise system and loading concepts for an extremely wide range of tasks and process requirements and implement them in manufacturable designs.
The double-chamber design developed by Christ places the ice condenser directly below the drying chamber. There is a wide choice of sizes, with ice condenser capacities from 12 kg to more than 500 kg. The shelf area ranges from 1 m² (specifically for process optimisation) to over 40 m², depending on the system type.
Our Epsilon DS freeze drying systems feature:
Pressure chamber > 2.5 bar for steam sterilisation (SIP)
Hydraulic/pneumatic door locking system
Stainless steel door (optional slot door)
Automatic filter test (FIT)
Siemens S7 control system with LPCplus
Optional cleaning in place (CIP) capability
Compact design with minimum space requirements
Typical applications
Pharmaceutical industry (e.g. aseptic production of vaccines, cytostatic agents)
Biopharmaceutical industry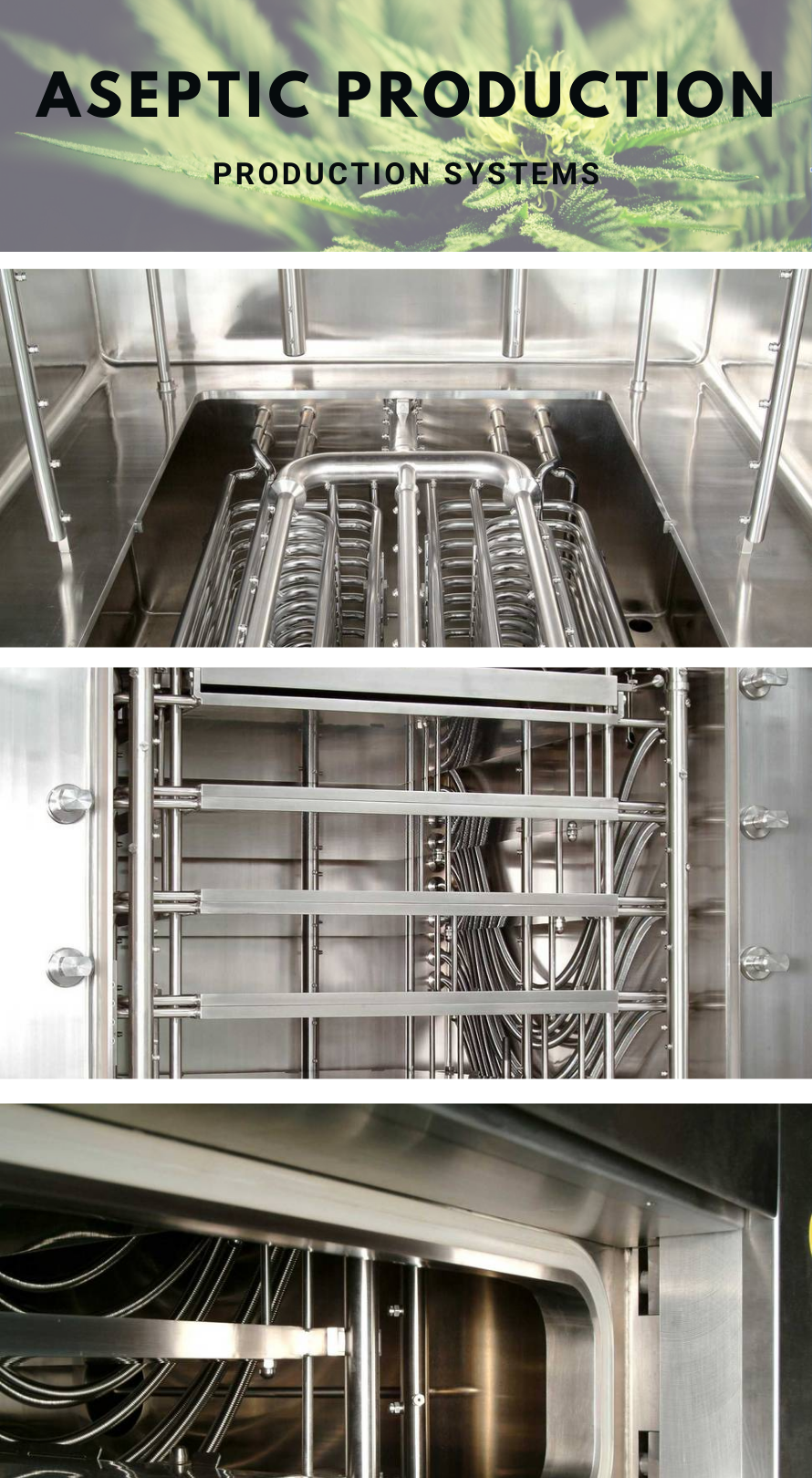 Overview
Laboratory freeze-dryer are capable of handling production capacities from 2.5 kg to 24 kg per drying cycle.
The version with LSCbasic control is particularly suited to standard applications in round-bottomed or similar flasks and small quantities in product trays and other containers. For advanced applications requiring more process control and/or temperature-controlled shelves for the product, we recommend the LSCplus range.
Almost all models are available with ice condenser temperatures of approx. -55 °C (main application: aqueous solutions) and -85 °C and -105 °C (for products with low freezing points, e.g. solvents).
Models
Standard (LSCbasic/LDplus)
Advanced (LSCplus)
Universal solvent packet – flasks and storage surface:
Alpha 3-4 LSCbasic freeze dryer with internal condenser, made entirely of stainless steel (316L)
Condenser capacity: 4 kg
Condenser temperature: -105 °C
Optimized ice condenser
Capacitive vacuum measurement probe
Drying chamber made of mineral glass with transparent splinter shield foil
Flow tube for optimal ice distribution
Base plate made of stainless steel
3 storage spaces, diameter 265 mm, unheated
12 chemical-resistant valves for flaskss