One of the most significant standards introduced by the United States Pharmacopeia (USP) has been a new methodology for determining elemental impurities and contaminants in drug products and diety supplements. These new methods have been going through a review and approval process for several years, and, a recent announcement by the USP has indicated that these new chapters will be implemented on January 1, 2018.
The new methods will address the limitations of the current methods, extending the list of analytes, reducing the maximum permitted exposure limits and taking into account the route of exposure. The use of close vessel sample digestion and modern instrumental techniques is also introduced to ensure the accurate recovery and determination of individual analyte concentrations.
Chapter and ICH Q3D Chapter and ICH Q3D specify maximum limits for elemental impurities permitted in drug products, drug substances, active ingredients, and excipients.
Medicinal cannabis manufacturers should be concerned about the content of all heavy metals in their final product because all cannabis is grown for ingestion of some form. However, a few that stand out because they're so dangerous are arsenic, cadmium, cobalt, copper, lead, and mercury. Heavy metals, depending on their concentration, can have a wide range of effects on the human body. Everything from headaches, nausea, to organ failure, and cancer in cases of prolonged or extreme exposure. Because cannabis is often combusted, there are increased respiratory risks as well.
If any cannabis product that contains heavy metals is ingested, the heavy metals mimic other essential elements and hence is replaced in the consumers' bones and other cellular structures. In short, these metals bind with sites which were not originally intended for them and, in the process, they remove the original metals from their natural binding sites. This is what causes the malfunction of cells and, ultimately, toxicity. Heavy metals also cause oxidative stress, which greatly increases free radicals in the body, causing further damage.
Medicinal cannabis manufacturers, therefore, need the ability to test for heavy metals because medical marijuana patients are using marijuana to improve their health, not make it worse. Medical marijuana patients often have compromised the immune system, which can make them especially susceptible to harm from heavy metals.
Analytik Jena provides complete solutions from sample preparation to final analysis in their TOPwave microwave digestion system and the Plasma spectrometers; PQ9000 and PQMS.
Optical Emission Spectrometry - ICP OEQ PQ9000
The PQ9000 ICP OES from Analytik Jena combines the latest technology and a revolutionary small design to give you the right results all the time for all your metals analysis.
With a clear emphasis on wide applicability, effectiveness PlasmaQuant® PQ 9000 is designed for users with high demands in matrix tolerance, analytical power and fast readiness for operation. The latest plasma and torch technology from Analytik Jena guarantees high productivity and method robustness for agricultural, environmental und food samples. Even samples with high matrix loads such as soils, petrochemicals, electroplating or saline wastewaters are analyzed interference-and deposit-free thanks to the V Shuttle Torch. Its Dual View PLUS provides the synchronous analysis of trace elements and major constituents without lengthy sample preparation or compromises in analytical performance (DL / RSD).
Hightlights
High Resolution Optics - Unique resolving power for unconditional condifence in results
V Shutter Torch - Intelligent torch design for comfortable high end functionality
Dual View Plus - Flexible plasma views for most comprehensive applicability
High frequency Generator - Absolute plasma power for compelling long term performance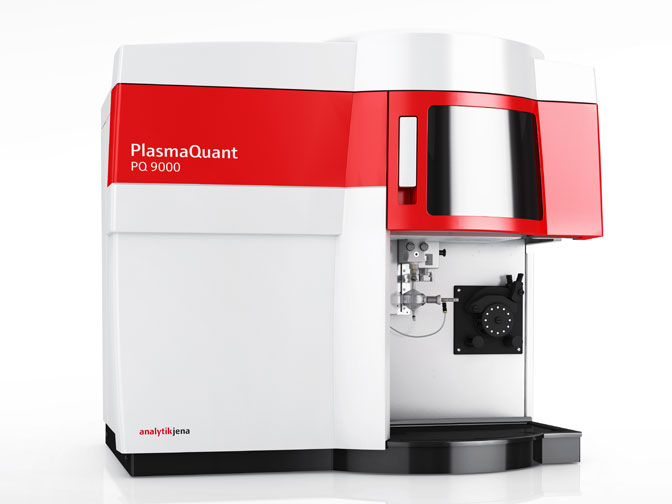 Mass Spectrometry - PlasmaQuant® MS Elite
When you need better limits of detection, the PQMS ICPMS from Analytik Jena is the answer. The system offers detection limits from sub parts per trillion.
The PlasmaQuant® MS Elite delivers outstanding performance for applications, including leading-edge research, that benefit from industry-leading sensitivity and low background noise, e.g. in geochemistry, material sciences, and biological imaging. With a next generation plasma system, ReflexION ion mirror and high-definition, true 3 MHz quadrupole, the PlasmaQuant® MS Elite even exceeds the sensitivity specifications of high-priced magnetic sector-field ICP-MS instruments.
Hightlights
Eco Plasma - Robust plasma performance with half the Argon gas
iCRC (Integrated Collision Reaction Cell) - Interference-free analysis plus BOOST technology
ReflexION - 3D focussing ion mirror for unsurpassed sensitivity
HD Quadrupole - True 3MHz quadrupole provides superior mass separation
ADD10 - All-Digital Detection System 10-order linear dynamic range