Cannabis Extraction Preparation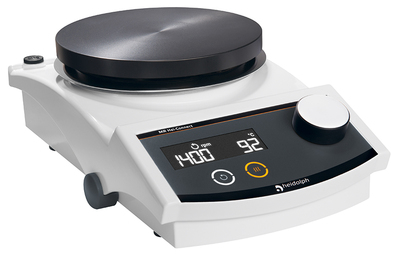 Magnetic Stirrers with Heating
Heidolph magnetic stirrers include leading safety standards and features for superior ease of use and reduced cost of ownership. The design is splash proof with sealed electronics to protect from corrosive fumes and spill accidents.
Highlights
A separate ON/OFF switch for the heating function prevents unintentional heat-up. The button illuminates clearly for a visual indicator
High temperature warning light to alert users of high hotplate temperatures even when switched off or malfunction
Analogue or digital speed setting for 100 to 1,400 rpm and temperature setting up to 300oC
145mm Kera-DiskTM hotplate with 800 watt heating power
The Heat-On attachments are suitbale to replace oil baths and heating mantles in your lab and reduce the risk of fire hazards. Moreover, the attachments minimize the messy oil clean-ups that result from changing oil or removing flasks from an oil bath.
Highlights
By far the safest, fastest and most efficient method for heating and mixing solutions in round-bottom flasks from 10 ml to 5 liter
Heat-On fits precisely to every flask, thus ensuring maximum surface contact and fast heat transfer. Eliminates the mess from cleaning flasks after removal from an oil bath or hazardous spills when an oil bath slips off a stirring plate. As a result, oil as a heat transfer media is made redundant and your lab is a safer place with the Heat-On block system.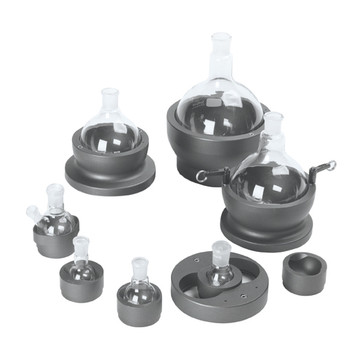 Overhead Stirrers - Hei-Torque
The Hei-Torque range offers the newest generation drives in either Value or Precision models with torque from 100 to 400 Ncm. All units are well sealed for operation in fume hoods. The glass touch screen controller is intuitive and allows precise control as well as programming (Precision model) of all parameters.
Hightlights
Constant speed even under changing loads
Sealed housing, glass panel with magnetic Smart-Knob, IP54 rated
New generation motor offers maximum power at minimum noise
Large range of accessories and impellers