Patented Selective Terpene Extraction
Extraction technologies for THC, CBD and other cannabinoids are well established however most are poorly suited for targeted terpene extraction. Often terpenes are lost or damaged during the extraction process despite their undisputed value for entourage effect, smell, taste and overall consumer experience.
Milestone has developed and patented (European patents EP 1 439 218, EP 1 618 798 and EP 1 629 725) a targeted solution for selective terpene extraction. The extractor is based on the unique selective heating mechanism of microwaves. It works 100% solvent free and simply uses water contained in the biomass.
Studies have shown no detectable cannabinoid content in the terpene extract and no detectable impact on the retained cannabinoids after they have been extracted by traditional means (CO2, hydrocarbon, ethanol).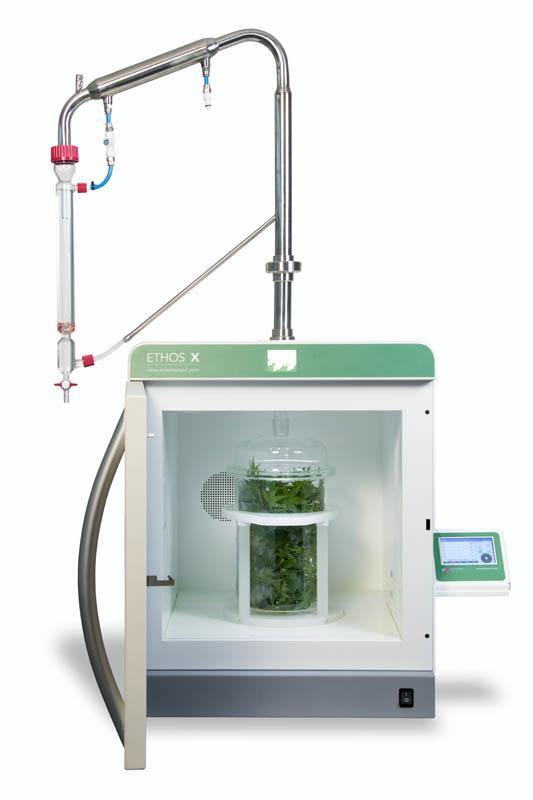 ETHOS X - Microwave Green Extraction
The new ETHOS X for the Microwave Green Extraction of Natural Products is available in two different and interchangeable configurations, for fragrances and flavors. The ETHOS X takes advantage of a unique microwave selective heating mechanism to produce effective and consistent results time and time again.
The fragrances configuration is based on the solvent-free microwave extraction (SFME) technology for the rapid extraction of essential oils from aromatic herbs, spices and dry seeds. The method involves placing a sample in the microwave reactor. A cooling system outside the microwave continuously condenses the vapors which are collected in a fragrances glassware. The excess of water is refluxed back to the extraction vessel to restore the in-situ water of the sample.
The flavors configuration is based on the microwave hydro-diffusion and gravity technology (MHG), a new and green method of essential oils extraction from various aromatic plants. The microwave hydro-diffusion and gravity technology (MHG) combines microwave heating and earth gravity at atmospheric pressure to allow flavors to diffuse outside the plant material. Outside of the microwave oven a cooling system continuously condenses the extract.
With both methods, after the essential oils are extracted they can be analyzed directly by GC-MS without any preliminary clean-up or solvent exchange steps.
Highlights
3 kg biomass capacity
<1 hour typical extraction time
Biomass can be wet or frozen, dried material can be processed but needs to be humidified
Well established product with globally respected quality
Touchscreen controller
Very easy to use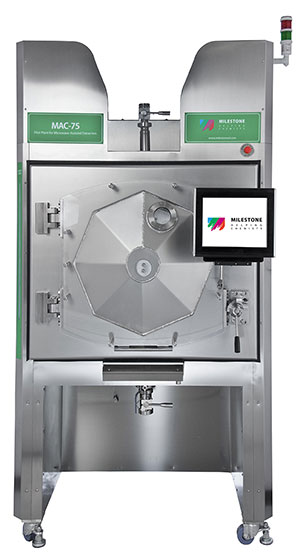 MAC 75
Small Scale Production System
Commonly used methods include infusion, maceration and percolation processes. Methods that turn out to be rather slow and not efficient, as well as very laborious, impacting the quality of the final product.
For this reason, to speed up the extraction process and at the same time better safeguard the organoleptic aroma profile of the fresh product, Milestone developed MAC-75, an innovative industrial plant that uses the energy of microwaves to create a natural infusion process at a controlled temperature (non-thermal).
Highlights
264l standard size with flexible shelving configurations
Larger systems offered as custom production tailored to your needs
Low temperature processing option up to 121C and high temp option to 220C
Touch panel control and programming
Solvent resistant BUNA door gasket
Bright LED lights in window for visibility of sensitive material
Vacuum control options
Dry, maintenance free and solvent resistant pump options
Trap options to suit load on process conditions