More and more frequently it is required to separate THC from CBD and terpenes.
With our KDL5 / CDU1000 fractional distillation system you're working with the pinnacle of of cannabis distillation equipment. The automated capabilities, continuous operation and unique features of the KDL5 / CDU 1000 exponentially increases the efficiency of the distillation process.
Crude oil is fed into the distillation column via an automatic dosing pump. The dosing pump is fully programmable based on the operator's desired throughput. The crude oil is pumped into a column, where it is evenly distributed over the evaporative surface by several PTFE "rollers". This thin film technique allows higher efficiency and lower temperatures to be utilized during the distillation process.
The KDL5 / CDU 1000 maximizes the efficiency of your lab with no batch-size limitations and no flask swaps. Continuous operation with minimized downtime.
Performance Features
No batch size limitations
No swapping flasks
Continuous operation
Installation and training included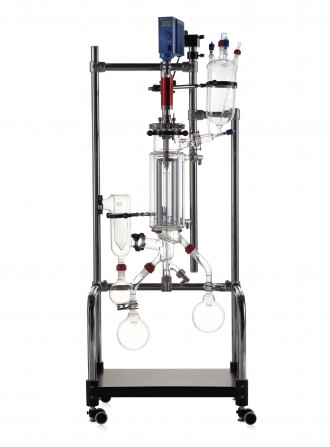 Thin Film & Short Path Evaporators
Thin film and short path evaporators are perfect for evaporation of heat sensitive or high boiling point products. The large evaporation surface area further increased through the wiper action allows feed rates up to 3 kg/h with very high boiling point products.
Process temperatures are commonly up to 300C and pressure below 0.001 mbar.
Hightlights
Various wiper materials to suit your temperature requirements
Wiper and wiper mechanism options compatible with concentrated acid work
DN 60 as standard and DN 100 tube size for high throughput applications
Custom feed vessel assemblies
Turnkey systems with temperature control, condenser cooling, chemistry high vacuum pumping and control technology
Chemistry Pumping Unit - PC 8 / RC 6
The RC 6 chemistry-HYBRID pump is a combination of a two-stage rotary vane pump and a two-stage chemistry diaphragm pump for optimized corrosion resistance. The diaphragm pump maintains the oil reservoir under vacuum in order to keep the partial pressures of solvent vapors at levels below their condensation points and to reduce largely the concentration of oxygen and corrosive gases. Therefore the RC 6 chemistry-HYBRID pump has a much higher solvent vapor pumping capability and resistance to aggressive gases than conventional rotary vane pumps. The pumping unit version PC 8 with RC 6 offers excellent environmental friendliness due to efficient solvent recovery.
Performance Features
Reduced internal corrosion, even when working with corrosive vapors
Oil changes typically reduced 90% or more compared with rotary vane pumps alone
Excellent environmental friendliness due to efficient solvent recovery (accessory kit PC 8 with emission condenser; or as pumping unit PC 8)
Most economical solution: In practical operation a cold trap is often no longer necessary. For large amounts of vapors a pumping unit PC 3 / RC 6 with cold trap at the inlet is available
Ease of maintenance due to telescopic design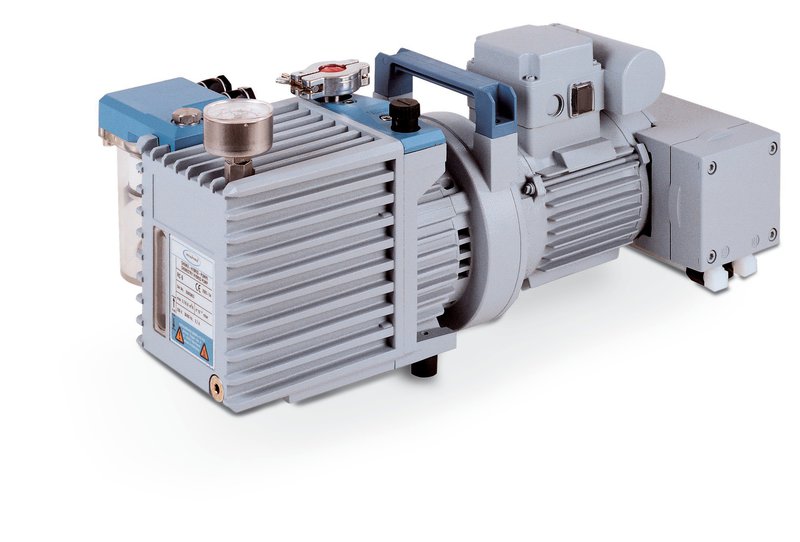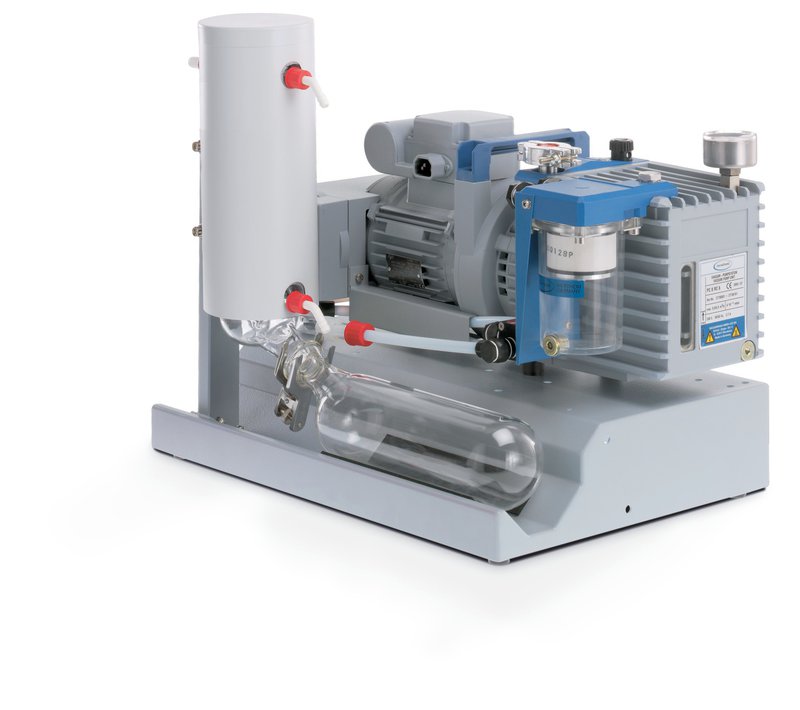 Dynamic Temperature Control System - Tango
The Unistat range inspires with unique thermodynamic properties and a range of functions to meet the highest demands. Unistat technology guarantees precise, reproducible temperature control results, the shortest possible heating and cooling times and large temperature ranges without the need for fluid change. All Unistats are fitted with the innovative Pilot ONE controller with a 5.7" touchscreen colour display and easy menu navigation. All important parameters can be seen at a glance and temperature curves are displayed in graphic real time. Unistats are equipped with the most up-to-date pump technology for optimal heat transfer. The pump self regulates to ensure the best possible circulation and flow and delicate glass reactors are protected from breakage by the pumps soft start-up feature. Unistat technology impresses as a result of economic operation with reduced operating costs and efficient energy management. Because Unistats are hydraulically sealed, the service life of the temperature control fluid is dramatically increased by preventing oil loss through vapours and oxidation, further saving resources. Unistats are fitted with extensive safety equipment and are therefore suitable for unsupervised continuous operation. Relevant operating conditions are constantly monitored and the system is switched off if necessary or with the process safety feature the emergency cooling circuit is activated.
Fastest heating and cooling rates
Wide temperature range with no fluid change
Pilot ONE controller with 5.7" touchscreen and comfortable menu navigation
Adaptive temperature control, self-optimising
Efficient circulation pump, adjustable
2 x USB (Host and Device), Ethernet and RS232 interface
Efficent operation saves working time and operating costs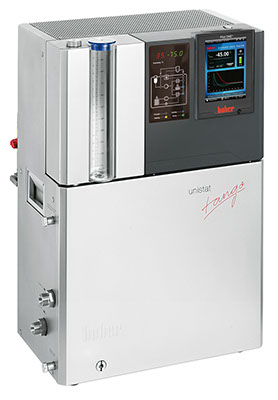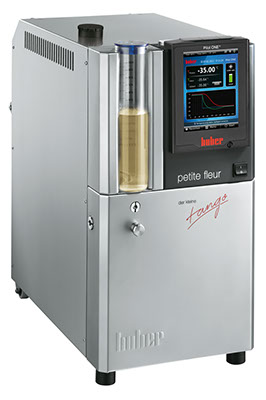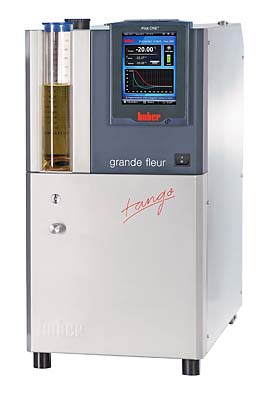 Temperature Control System - Petite Fleur
The Petite Fleur models are the smallest dynamic temperature control systems in the Unistat range. As with all Unistats, the Petite Fleur models have unique thermodynamic properties for the highest temperature control speed and precision. All models are space saving, simple to operate and can be used for a wide number of applications. 480 W of cooling capacity is available at the full pump speed (according to DIN 12876) and a further 50 W is available if the pump speed is reduced. The circulation pump with its high capacity ensures optimal delivery and delicate glass reactors are protected from damage with the soft start-up which detects and balences out changes in the viscosity within the fluid circuit. Additional equipment includes the Pilot ONE controller "Professional" with a TFT colour display which can be removed and used as a remote control. It features a programmer, calendar/clock function, user menus, graphic representation, ramp function, calibration and many additional functions. Almost all models use environmentally friendly natural refrigerants as standard.
Temperature Control System - Grand Fleur
The new Grande Fleur expands the product offering in the dynamic temperature control range. The Grande Fleur together with the Petite Fleur are two small Tangos and are the entry level into the world of Unistat technology.
The compact dimensions and unique thermodynamics of the Grande Fleur mean it is ideally suited for high-precision temperature control of research reactors. The Grande Fleur offers all of the great performance and features of the Unistat series, achieving unrivaled heating and cooling rates.
Fastest heating and cooling rates
Wide temperature range with no fluid change
Pilot ONE controller with 5.7" touchscreen and comfortable menu navigation
Precise temperature control
Efficient circulation pump, adjustable
2 x USB (Host and Device), Ethernet and RS232 interface
Efficent operation saves working time and operating costs