---
SP Scientific (USA) is the collection of well known and market leading brands which together form the largest and most experienced company in freeze drying and centrifugal evaporation.

VirTis, founded in 1953 has been manufacturing and selling freeze dryers since 1957. At that time no standard laboratory freeze dryer existed and scientists were required to perform small freeze dry runs utilizing expendable refrigerants such as dry ice. The founders of VirTis took their knowledge of freeze drying, coupled it with mechanical refrigeration and developed the first mechanically refrigerated research and development freeze dryers available in the United States. Over the years VirTis engineers have designed and developed hundreds of equipment breakthroughs leading the brand into the 21st century. VirTis has been the leading supplier of research and development freeze dryers in the United States and is well recognized in every part of the world.
Founded in 1971, FTS initially sold into the general freeze drying market place. In the 1990's a collaboration with Purdue University and Eli Lilly, Dr. Steven Nail, Dr. Nathaniel Milton, Mr. Michael Roy and Dr. Michael Pikal began publishing papers on manometric temperature measurement (MTM). Under the direction of Dr. Michael Pikal at the University of Connecticut, Dr. Charlie Tang and Dr. Henning Gieseler, among other associates, continued the collaboration with FTS Systems that culminated in the development of the SMART freeze drying system. SMART has revolutionized the approach to optimizing the primary drying phase of the freeze drying cycle and provides research and development labs with crucial information about their products as well as increasing return on investment for those labs equipped with SMART.
Hull manufactures Pharmaceutical Freeze Dryers for both Pilot and Production use. Over our fifty-plus years we have developed a depth and breadth of experience second to no one in the design, fabrication, assembly, testing and installation of these lyophilizers. We design to Pharmaceutical cGMP industry standards and our control systems are GAMP 4 compliant and validatable to 21 CFR Part 11, Electronic Records and Signatures. Vessels are engineered and built to ASME section VIII Division 1 standards for unfired pressure vessels.
Genevac was founded in 1990 by Dr. Michael Cole and was started as a small family owned business specializing in the manufacture of corrosion proof vacuum pumps and centrifugal evaporation equipment for the life science research laboratory. In the mid 1990's Genevac responded to the industry need for new technologies to support faster drug discovery and development and focused on creating a new class of laboratory evaporation equipment specifically designed for combinatorial chemistry and its related applications. The EZ-2 and HT-4X Centrifugal Evaporators were designed to meet the high demand throughput, synthesis, solvent evaporation and purification needs of drug discovery and combinatorial techniques. Genevac has outpaced the competition by partnering with their customer/client base and understanding the obstacles to the use of centrifugal evaporation/concentration systems. One of the first significant advances was the development of the Genevac SampleGenie. The SampleGenie is a novel approach to taking large single or multiple source fluid volumes and concentrating them into a single, small storage vial-right inside the centrifugal evaporator.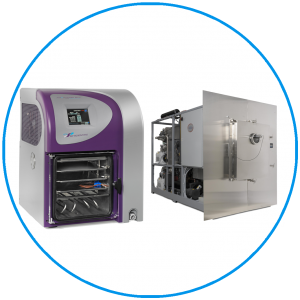 [vc_row el_class="#contact"][vc_column][vc_empty_space height="15px"]
[/vc_column][/vc_row]